Weight Loss and Weight Control seem to be themes that nearly everyone is interested in – from our youngest to our most senior clients, friends, associates and ourselves. These days it seems like just about everyone has a concern about their diet and their health. While some are concerned just with their over all health, most are concerned about their ever expanding girth. Some are so frustrated that they wonder "will I ever be normal again?".
Like most of us, we've experimented with a wide number of diet choices, tried a wide range of weight control products and shelled out time and money on weight loss  services of many kinds. All that experience has helped us gain some real insights in this field. We now believe we have a very good understanding of some of the key factors which are universally applicable.
It's not just about calories in – calories (out) used.
Not all calories are created equal.
The same foods prepared in one way are better for you than the exact same food prepared in another way.
Spike control is essential.
Highly modified foods are making us uncontrollably fatter.
It's not just self-control – but strategy that makes the difference.
Eating breakfast is vital to weight control and weight loss.
Sleep is critical.
Obesogens play a critical role in disrupting our metabolic processes – causing weight gain.
Triggers must be addressed – physical, emotional, energetic.
Each of these aspects must be addressed in your overall weight management plan.
Your NUTRITION is something that many chiropractors will discuss with you when you come in for any type of health assessment or treatment. What you eat does translate into how you look and feel so it isn't a topic to be taken lightly.
If you are looking for ways to improve your nutrition here are some basic rules that can help guide you:
Look for short ingredient lists. In general, the shorter the better. The longer the list and the bigger the words means you are likely getting an unhealthy does of artificial ingredients. Nutritional experts also recommend that you shop the outside aisles of the store. Typically, foods that aren't refrigerated or fresh are sold at the interior of the store. The fresh and nutritionally sound foods generally are found at the exterior of the store. So, try to do a majority of your shopping where it's fresher.
Look for the true portion size. Many labels are designed to make you think the entire package is an individual portion size when in reality you may be eating two or three times the individual serving size. Check the label and look at what the serving size is and then how many servings per container. This can help you keep your caloric intake in check and make you more aware of what you're eating.
Look for whole grains. Just because you're buying wheat bread doesn't mean it's much healthier than white bread. You should look for the package to state whole wheat or whole grain. This will ensure that you are getting the best nutritional value from your bread without anything being removed.
Remember, that what you eat does effect how you look and feel. A nutrition overhaul isn't necessary to see changes, even small adaptations to your current diet can make a difference and help you feel like a brand new you.
~
~~
Italian Chicken Soup
Prep Time: 20 Minutes Cook Time: 1 Hour30 Minutes Difficulty: Easy Servings: 8
Ingredients
◾1 box Ditalini Pasta (very Short Macaroni-type Pasta Noodles)
◾1 Tablespoon Olive Oil
◾1 whole Cut Up Fryer Chicken
◾8 cups Low Sodium Chicken Broth
◾1 whole Medium Onion, Diced
◾2 whole Green Bell Peppers, Diced
◾2 stalks Celery, Diced
◾2 whole Fresh Jalapenos, Diced
◾1 Tablespoon Olive Oil
◾1 can (28-ounce) Can Whole Tomatoes
◾2 cups Heavy Cream
◾1/3 cup Extra Virgin Olive Oil
◾4 Tablespoons Minced Fresh Oregano
◾ Salt And Freshly Ground Pepper, To Taste
◾ Parmesan Cheese Shavings, For Serving
Preparation Instructions:
Cook pasta in a pot according to package directions, being sure not to overcook it. Drain and rinse in cold water to cool. Toss in 1 tablespoon olive oil and set aside.
Place chicken in a large pot or dutch oven and cover in chicken stock. Bring to a boil, then simmer chicken, covered, for 30 minutes. Turn off heat and leave covered for 30 minutes. Remove chicken from pot and shred meat. Discard bones and set meat aside.
Dice canned tomatoes and return them to their juice. Set aside.
Heat a small skillet over medium high heat. Add olive oil and oregano and turn off heat, stirring over the next minute to keep oregano from burning. Set this aside.
Either pour off chicken broth into a separate container or use a new pot to saute onion, green pepper, celery, and jalapenos in 1 tablespoon olive oil over medium heat until tender and golden brown, about 10 minutes. Add chicken broth, shredded chicken, and tomatoes with their juice. Bring to a boil, then reduce to a simmer. Add cooked pasta, cream, and all the oregano and olive oil from the small skillet. Stir to combine. Turn off heat.
Serve with lots of Parmesan sprinkled on the top and enjoy!
Avocado Strawberry Spinach Salad with Poppy Seed Dressing
Salad Ingredients:
6 cups fresh baby spinach
1 pint strawberries, hulled and sliced
1 avocado, diced (or you can double this to 2 avocados!)
4 ounces crumbled gorgonzola or blue cheese
1/4 cup sliced almonds, toasted
half a small red onion, thinly sliced
Poppyseed Dressing Ingredients:
1/2 cup avocado oil (or any oil, such as olive oil)
3 Tablespoons apple cider vinegar
2 Tbsp. honey
1 Tbsp. poppy seeds
pinch of ground dry mustard (optional)
salt and pepper
40 Cloves and a Chicken
Ingredients
1 whole chicken (broiler/fryer) cut into 8 pieces

10 sprigs fresh thyme

40 peeled cloves garlic

Salt and pepper
Directions
Preheat oven to 350 degrees F.
Season chicken with salt and pepper. Toss with a 2 tablespoons olive oil and brown on both sides in a wide fry pan or skillet over high heat. Remove from heat, add oil, thyme, and garlic cloves. Cover and bake for 1 1/2 hours.Remove chicken from the oven, let rest for 5 to 10 minutes, carve, and serve.
Salmon with Olive Vinaigrette
Ingredients:
1/2 cup extra-virgin olive oil
1/4 cup red wine vinegar
1/2 cup pitted nicoise olives
1/4 teaspoon chile de arbol powder or cayenne pepper
2 cloves garlic, chopped
1 tablespoon dijon mustard
1 tablespoon honey
Kosher salt and freshly ground black pepper
4 6-ounce salmon fillets
Directions
Combine the olive oil, vinegar, olives, chile de arbol powder, garlic, mustard and honey in a blender until smooth. Season with salt and black pepper.
Place the salmon in a small baking dish; pour 1/2 cup of the olive vinaigrette on top and marinate 15 minutes. Preheat a grill to high or place a grill pan over high heat.
Remove the salmon from the marinade; season with salt and black pepper. Grill 3 to 4 minutes per side, brushing with the remaining vinaigrette every 2 minutes.
Balsamic Honey Glazed Chicken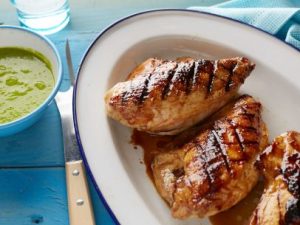 3 skinless chicken breast filets
3 tablespoons balsamic vinegar
3 tablespoons ketchup
1 tablespoon honey
1 ½ tablespoons olive oil
1 teaspoon of garlic powder
1 teaspoon of paprika
½ teaspoon chili powder
Salt and pepper for taste
Directions:
Season chicken with garlic powder, paprika, chili powder, salt and pepper. Heat oil in non-stick pan on medium high heat. Add chicken to pan and sear on both sides 3 minutes, reduce heat to medium low, cover with lid cooking for another 6-7 minutes or until chicken is fully cooked. Remove chicken, turn off heat and add mixed sauce to hot pan stirring until thickens. Add chicken back into pan to coat with sauce.
Sauce: Mix ketchup, balsamic, honey, salt and pepper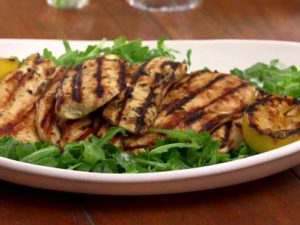 3 skinless chicken breast fillets
2 sprigs of Rosemary (remove leaves and
toss stem)
½ medium lemon
¼ cup apple juice
A tablespoon of apple cider vinegar
2 teaspoons paprika
2 teaspoons garlic powder
1 teaspoon salt
1 teaspoon pepper
1 tablespoon vegetable oil
Directions:
In a large bowl place chicken, rosemary, apple juice, apple cider vinegar, paprika, garlic powder, salt and pepper. Mix well until seasoning is spread evenly. In a large non-stick pan heat medium high and add oil. Place chicken in heated pan; sear 3 minutes on each side to seal in the juices then cover with lid. Bring heat low and allow to cook covered for another 8-10 minutes or until chicken is completely cooked through. Squeeze lemon juice on chicken when fully cooked.
Great with salads, rice and pasta